YOUR ONLINE RESOURCE FOR KIDS AND FAMILIES
Search by proximity:
# of Miles
Zipcode:
GO
Easter Events and Egg Hunts in the Westchester area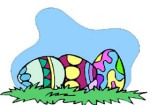 What's more fun than an Easter Egg Hunt at Easter? Knowing WHERE they are, though, is key to actually GOING! Check out the scrolling box below for all of the Easter events and egg hunts in our area. The events drop off the list as they pass, so as Easter nears, the list gets shorter.