101 Family Day Trips and Day Trips Around Westchester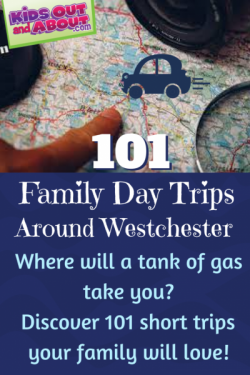 Remember, it's always best to follow each link to get details about your visit directly from your destination, since some places operate seasonally or by reservation, as well as to check each venue's COVID requirements (masks, limits, social distancing).
Looking for a family-oriented staycation in town or a road trip for less than a tank of gas from Westchester. Kids Out And About has tons of ideas for family travel, with places to explore, learn, and have fun!  
We used 1 Main Street in Yonkers, NY as our starting point to estimate distances.
KidsOutAndAbout is America's online guide to everything for kids, teens, and families! If you don't already receive our free weekly e-newsletter, sign up today to make sure you're in the know about free stuff, festivals, classes, camps, vacation ideas, and all the best events near you!
Explore Gardens & Sculpture Gardens
Get Wild on a Hike  
Time Travel Today  
Make Life a Beach  
Splash into Some Water Fun  
Spend the Day at a Museum  
Explore These Cities  
All Aboard Planes, Trains, and Automobiles (and Boats!)  
| | |
| --- | --- |
|   | New York Transit Museum - Brooklyn, NY |
| | South Street Seaport Museum - New York, NY |
|   | The Intrepid Sea, Air & Space Museum - New York, NY |
|   | Staten Island Ferry - New York, NY |
| | New Jersey Museum of Transportation - Wall Township, NJ |
| | Northlandz, World's Largest Model Railroad - Flemington, NJ |
| | Independence Seaport Museum - Philadelphia, PA |
| | American Helicopter Museum - West Chester, PA |
Grow Some Fun at the Farm  
Play Ball!  
Connect with Nature  
 

B

ear Mountain State Park - Bear Mountain, NY
 
Rockefeller State Park Preserve - Pleasantville, NY
Delaware Water Gap - Bushkill, PA and nearby
John Heinz National Wildlife & Refuge at Tinicum- Philadelphia, PA
Longwood Gardens - Kennett Square, PA
Scientifically Speaking  
 
Sony Wonder Technology Lab - New York, NY
American Museum of Natural History - New York, NY
Liberty Science Center

 - Jersey City, NY

New York Hall of Science - Corona, NY
The Franklin Institute - Philadelphia, PA
Academy of Natural Sciences - Philadephia, PA
Amuse Yourself at These Amusement Parks  
Talk to the Animals  
Monkey Around at the Playground Destinations  
Get Active Indoors  
Challenge Yourself  
Limiting our list to 101 ideas meant some great destinations may have been left off the list - if there is something you'd like to see added, share it with us on Facebook!
---
Most of these destinations are within an hour from downtown Buffalo. For those that are a bit farther away:

             = Less than 1 hour away


          = 1 to 2 hours away



       = 2 to 3 hours away




  = Just over 3 hours away 
---