2013 Top 20 Places to Take Kids in Westchester County
Westchester County's Favorite Family Fun Spots for 2013!
(Click here for the current year's favorites.)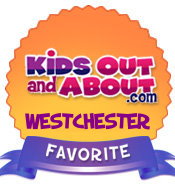 The best places to take Westchester County kids! Of course, there is LOTS more to do in our area! Get great ideas here on KidsOutAndAbout!
KidsOutAndAbout has a weekly e-newsletter!
Here is a sample of our most recent newsletter, full of scintillating wit & penetrating insight, and of course, tons to do with kids in our area. If you don't already receive it, sign up here:
---
Playland, often called Rye Playland and also known as Playland Amusement Park, is an amusement park located in Rye, New York. Playland is Metro New York's great family amusement park! From the famous Dragon Coaster to rides like the SuperFlight Coaster, Music Express and Double Shot -Rye Playland offers the best in family fun. There are more than 50 major and Kiddyland rides and attractions; a beach, pool, and pier on Long Island Sound; lake boating, entertainment, fireworks, lots of great food, and much more.
LEGOLAND® Discovery Center Westchester in Yonkers – Westchester's first LEGO® attraction for kids! Only a year after they opened they are one of the most unique fun things to do in Westchester, LEGOLAND Discovery Center offers a great family day out. Take part in children's activities with the Master Model Builder, kids birthday parties, MINILAND, New York's top attractions made from LEGO, soft play area, rides, 4D cinema and more!
Rye Nature Center's mission is to protect our natural resources and promote environmental stewardship and education through support of the Rye Nature Center and conservation projects within its Urban Forest & Wildlife Sanctuary and the community. It offers family workshops, tours, camps and host's birthday parties. 


Jumpin' Jeepers is a learning playground for children ages 1-9 in Mahopac. Jumpin' Jeepers promotes physical, social, and cognitive development in children. They are dedicated to safe fun: Natural and organic refreshments are available in their nut-free facility and their playspace is cleaned throughout the day with non-toxic cleaning products. The open layout is designed to make it easy to view your child at play.

Muscoot Farm was originally a "Gentleman's Farm" founded by Ferdinand T. Hopkins in 1880 and operated as a dairy farm until Westchester County acquired the property in the late 1960s. Today, Muscoot Farm is a Westchester County Park that strives to preserve and interpret its agrarian past. Visitors may stroll through the original barns, visit with the animals, participate in educational programs or hike the many miles of trails. There is something for everyone on Muscoot's 777 acres!
Leapin' Lizards is an indoor playground and recreation center for children of all ages located in Port Chester, NY, just off of I95 and I287. Children can climb, bounce, crawl, jump, and slide through our playspace which includes tunnels, mazes, ball pits and a foam forest! It is a clean, well-supervised environment for kids to play and explore, RAIN or SHINE. There is free parking.
Established in 1959, the Museum has grown into a leading provider of nature education experiences in the Hudson Valley. Its mission is to develop responsible caretakers of the natural world through its special focus on environmental education. It uses its living collections of native animals, natural habitats and trails to present a wide variety of programs for people of all ages at its two locations.
Hilltop Hanover Farm and Environmental Center is a working crop farm and environmental education facility located in Yorktown Heights, NY. Formerly a dairy farm, and with roots dating back to the 1600's, today Hilltop Hanover acts as a regional education hub offering programs on healthy and sustainable food production, skills for small-scale suburban and urban farmers, and sustainable living practices for local communities.
Bear Mountain State Park is situated in rugged mountains rising from the west bank of the Hudson River. The park features a large play field, shaded picnic groves, lake and river fishing access, a swimming pool, Trailside Museums and Zoo, hiking, biking and cross-country ski trails.
Greenburgh Nature Center is a 33-acre nature preserve with trails, a pond and gardens. More than 70,000 visitors come to the GNC each year. The property is a significant wildlife habitat refuge, both for indigenous species and for the hundreds of species of migratory birds that use it as a resting place on their spring and fall travels. The property includes 30 acres of woodland, two significant wetland sites, and an old orchard succession site, which is used as a nesting area for Eastern box turtles.
The Emelin Theatre, located in Mamaroneck, New York, and founded in 1972, is the oldest continuously operating performing arts theater in Westchester County. Its mission is to bring the best in live performing arts to Westchester and other nearby communities and to promote a cultural life that entertains, educates, and invigorates. The Emelin, well-known for its high-quality and affordable programs, is one of the few performing arts venues in this region which offers a broad mix of entertainment appealing to all ages and tastes, produces its own theater performances, and attracts diverse audiences throughout Westchester County and beyond. 
The Katonah Museum of Art is a dynamic resource in the community for families to enjoy art. Children have
the opportunity to explore their creative and imaginative responses to exhibitions in our hands-on Learning Center and an activity sheet will guide young visitors in the galleries. Unique art workshops inspire and family days offer artful fun.

13.    My Local Library
Of course, our local library system is not really ONE place, it is MANY places... but it's important to emphasize how valuable libraries are for family learning and fun. The libraries in our area are wonderful about posting their events to the KidsOutAndAbout calendar so you always can get ideas for free things to do with your kids that celebrate education and imagination. KidsOutAndAbout.com takes this opportunity to salute the wonderful children's librarians who serve our community with such dedication.

The Hudson River Museum strives to be a center of discovery and discussion by offering an array of fresh, thought-provoking learning opportunities. Programs for the public are developed to pique visitor curiosity and encourage conversations about the role that art, history, astronomy, and ecology play in our lives. Programs include lectures, performances, tours, hands-on workshops, and regular community festivals that celebrate the creation and exchange of ideas.
Presents Live Musical Theater Production. Yorktown stage also offers a variety of camps and workshops for drama, voice, dance, and choreography.
The Music Hall is one of the busiest theaters in the region, offering the best in music, theater, dance, and film, and is a cultural destination, attracting well over 85,000 people including 25,000 children on an annual basis from all over the tri-state area.
Wee Zee World is a gym for kids n Chappaqua with over 200 different activities such as cybersports games,rock climbing, ziplining, a rain room, a GaGa Pit, Ta Kwon Do, and more. At WeeZee, you and your child will experience a 16,000 square foot sensory world of highly engaging, interactive, and imaginative sensory experiences in a safe, supervised, environment. They have over 200 different elements designed to strengthen the central nervous system in a way that improves academic performance, athletic coordination and social connections in children of ALL ages and abilities.
The Paramount Theater has been designated a Westchester County Landmark and is on the New York state and National Registers of Historic Places. It features movies, old and new and a wide variety of live acts including musical performances and comedy, all performed in restored, iconic space that dates back to 1929.
The mission of Stone Barns Center is to educate children about the sources of their food, and prepare them to steward the land that provides it. Stone Barns provides family events that include classes, farm tours and weekly storytime, all designed to connect children to the world around them.
The Rockland Boulders are an American Independent Professional Baseball team based in Pomona. The Rockland Boulders are proud to now be members of the Cn-Am League of Professional Baseball and have finished our third season at the majestic Provident Bank Park. The Boulders are affordable, family entertainment for the Lower Hudson Valley and northern New Jersey.
---