Back in time at the Farmers' Museum in Cooperstown, New York
By Meg Brunson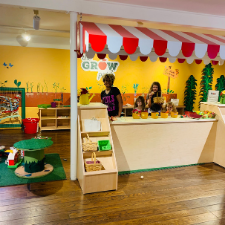 As our family has been traveling around the US, we've been lucky to stay at a variety of working farms and the kids have learned to love a variety of farms. We were eager to see all that the Farmers' Museum had to offer and how much we'd learn about Farming!
We lucked out and there was an exhibit focused on Hops, which was especially interesting to my husband who is a big craft beer fan. Inside there was also a play area where the kids could dress in old fashioned clothing and play with a variety of farming toys and puzzles (which allowed my husband even more time to enjoy all of the Hops exhibit.
We quickly discovered that the Farmers' Museum is about far more than just farming - it's a living history museum focused on rural life in the late 1800s and early 1900s. The Historic Village contains a variety of buildings including a general store, pharmacy, blacksmith shop, church, and barn. We loved browsing the general store and the kids each bought some rock candy. The pharmacy was very different from what my kids are familiar with, it focused on natural and herbal remedies. We loved watching the blacksmith make handmade nails and explaining step-by-step how those nails are made! Because it is a working farm - the nails and other products are available for purchase in the general store. 
The Empire State Carousel was amazing - an additional charge that was totally worth it! All of the animals you ride on are hand-carved and represent animals native to New York state! Then, all the panels and carved elements highlight other elements of New York history: folklore, notable figures, historical events, and the different regions of the state. There are so many details that all relate back to New York state - which is interesting whether you're native to the state, or visiting!
And of course, the animals! The kids loved the cows, sheep, chickens, goats, and bunnies they got to meet at the Farmers' Museum. We had the opportunity to observe a farmer milking the cow and learned a lot about dairy cows! The mama cow (Cinnamon) is recently pregnant, and we also got to meet her calf (Parsnip) who was 6 months old. 
Tips to make your trip extra enjoyable!
Dress Appropriately - The Farmers' Museum has a working farm and a lot of outside walking on a variety of services, so make sure that you dress for the weather, wear comfortable shoes, and plan on muddy shoes if it's rained recently! My kids were glad to have their rain boots!
Plan to stay for a couple days - The is a lot to see/do at the Farmers' Museum and you could easily spend the whole day here (we almost did!). But Cooperstown is a great town to explore - lots of cute shops!
Save with a Combo Ticket - Enjoy admission to the Farmers' Museum, Fenimore Art Museum, and National Baseball Hall of Fame! And, you can visit them on different days - the visits just need to happen within one year!
Food/Drinks - The Crossroads Café is open Memorial Weekend through Labor Day, and you can also access the Fenimore Café in the Fenimore Art Museum during Fenimore Art Museum hours (without paying the Fenimore Art Museum entry fee). There are also picnic tables on the grounds if you want to pack a picnic lunch.
Animal lovers, farmers, history buffs, and those who just enjoy lifelong learning will all enjoy the learning experiences presented by The Farmers' Museum. It's definitely a must if you're interested in learning about New York State agriculture. Learn more about the museum and start planning your trip at: https://www.farmersmuseum.org/
Read about some of the other adventures we're having on our Year-Long Road Trip!

---
© 2019 Meg Brunson
Thanks to the Farmers' Museum for sponsoring this review. All opinions expressed are my own. See more on Instagram!
Meg is a mommy blogger, Facebook marketer, and much more. She is a mom to four kids who live full-time in an RV exploring the US! As a former Facebook employee, Meg remains a Facebook addict and handles KidsOutAndAbout.com's Social Media Marketing in addition to providing freelance services for other small businesses on how to best leverage Facebook as a part of their marketing strategy. Meg also hosts the FamilyPreneur Podcast, a podcast for parent entrepreneurs raising entrepreneurial children. Learn more about Meg at MegBrunson.com!