Review: The Art of Ice Cream Experience

By Meg Brunson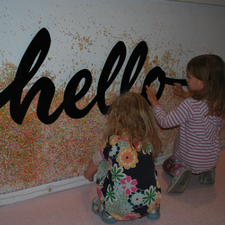 Our family was excited to get an exclusive sneak peek at the Art of Ice Cream Experience!  Located in Old Town Scottsdale, the experience opens to the public on Friday, November 24 and is scheduled to remain open through March 9, 2018. You purchase your tickets online, for a specific day and time, which allows the experience to move smoothly for everyone. It takes about an hour to get through all eight of the Ice Cream themed rooms.
We are westsiders, so we are unfamilar with Old Town Scottsdale and were a little wary of how parking would be. We had no problem finding free parking in the adjacent lot, and there was plenty of street parking as well as a couple nearby parking garages. You may know this already, but there are also a ton of restaurants in the area. The Art of Ice Cream Experience would be a great way to follow up dinner at any of the local restaurants!  
The kids were really excited about what they may find within this exhibit. They are, of course, big fans of Ice Cream! We barely made it through the doors before they spotted the front desk full of (pseudo) spinkles! They were entranced with the ways that the tiny balls reacted to their touch through the plastic barrier. There is a gorgeous ice cream chandelier and giant ice cream sandwich benches to sit on. A television displays recent social media posts from other guests (maybe you'll even see some of ours - the kids sure hope so!), and there is a great selfie backdrop. The attention to detail in the design elements of the space makes it really imaginative and fun.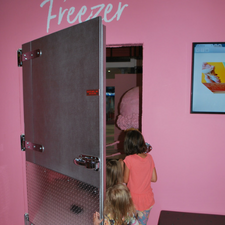 In order to enter the exhibit, you go through a giant metal freezer door - but don't worry, it's not really freezing inside! This is where all of the fun begins! Your family is able to explore rooms one by one, each providing a fun interactive activity and plenty of photo opportunities. Staff is dispersed throughout the experience to help regulate the amount of time in each room (keeping your visit to about an hour, and allowing traffic to flow smoothly). 
Some of the interactive activities you'll encounter include partaking in a cups vs. cones boxing match, splashing around in a ball pit, coloring an ice cream themed mural, sampling a variety of ice creams, and (of course) taking some amazing selfies!  The kids liked posing and snapping pics with all the giant ice cream fixtures and hand-painted murals.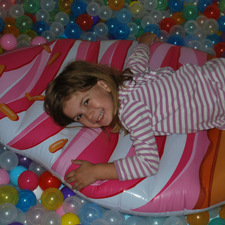 The ball pit room was a huge hit. The walls were painted beautifully with images of ice cream cones floating through the sky - and the ceiling was covered in umbrellas with blue skies and fluffy clouds. Consistent with the main entrance, it is a fun imaginative space. The "pit" itself is shallow, which was great for the little ones. When we visited they were putting the finishing touches on a pit that looked like it would be deeper for bigger adventurers. This room also had some fun pool floats the kids enjoyed playing with and a little lounge area for parents to watch the kids play. 
The exploration goes through the ground level first, then continues on the second floor. After taking lots of selfies, making lots of memories, and sampling lots of ice cream, you will make your way back downstairs. Grab your favorite cup or cone of ice cream and head back out into the lobby to enjoy it.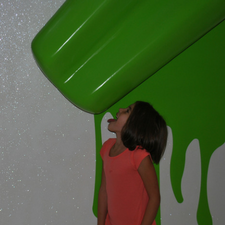 This unique social art experience is a really cool blend of elements you'd expect to find in an art musuem, indoor play center, and ice cream shop. It's very family friendly, and is ONLY found right here in Scottsdale, and only for a very limited time! You'll want to ensure that you buy your tickets soon, as it looks like at the time of my writing this, the first week is all sold out already!  And, make sure you charge your camera (or cell phone) so that you can snap lots of pictures. You've seen some of mine here, but you can see more on our Facebook and Instagram pages as well, if you'd like!
FInd more information, frequently asked questions, and ticket information at http://artoficecreamexperience.com!

---
© 2017 Meg Bru
nson 
Meg is a mommy blogger, Facebook marketer, and much more. She is a mom to four kids who live in Peoria, AZ and is the local Editor of KidsOutAndAbout Phoenix - helping parents and caregivers find free and affordable things to do with kids, out and about in Arizona. As a former Facebook employee, Meg remains a Facebook addict and handles KidsOutAndAbout.com's Social Media Marketing in addition to running a digital marketing agency at EIEIOMarketing.com.