Review of The Hyde Collection in Glens Falls
by Katie Beltramo
The The Hyde Collection in Glens Falls houses a wide array of art by famous artists like Picasso, Degas, and Rembrandt that are placed within an elegant historic house. A great way to begin the visit is to start with the video about the Hyde on the lower level.
This lower level also houses a kid-friendly area with artmaking supplies, dress-up clothes, and toys as well as an adjoining classroom studio area. If you're fortunate, your kids will be engaged in the hands-on stuff long enough for you to watch the full video. My kids were too excited to begin exploring the rest of the space.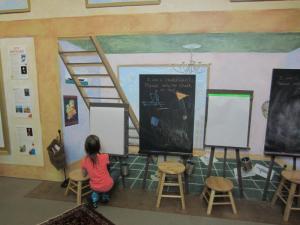 What You'll Find
Exploring the main and upper floors of the Hyde is like getting access to the home of someone who has all the money and taste you can only wish that you had. If you've never visited an historic house with kids, you may be surprised by how engaged they are. I'm not sure if it's the voyeuristic thrill or the way that it's so easy for them to draw comparisons between their own homes and the destinations, but kids really do enjoy historic houses in general. At the Hyde, the tour of any room is punctuated with decor that includes some of the biggest names in art history. Often, we adults would be murmuring about a small painting by one of our all-time favorite artists while the kids were admiring, say, a reproduction lamp. And that's okay!
On the main floor, as well, there is exhibition space for changing exhibitions. When we visited, it was 50 at 50: Five Decades of Collecting at The Hyde. We loved the variety, especially some of the modern art. In fact, the area was small enough that we were able to separate as I gave the family an assignment: we all spent a few minutes choosing our top three favorite art pieces, then got together to discuss our choices. We all really loved A Midsummer Night's Dream by Tim Rollins and K.O.S., and when my kids realized that the artwork had been executed by a bunch of kids, we were all even more enthusiastic. It was inspiring.
Along with labeling, visitors can use cell phones to hear more information about several works of art, and the kids loved that interactive feature as well.
What Age is Best for a Visit?
If your children are at that difficult age when they are independently mobile and still haven't fully grasped "no touch," walking through the Hyde will be stressful for you. While the staff were generally friendly and welcoming, during our visit it was quiet enough that the guards shadowed us watchfully from room to room, so that even my 10-year-old remarked on it. My kids are attentive and experienced museum visitors, but between the guards following us and my kids' eagerness to see the next room, I definitely felt tense. When we left the historic house area to visit the temporary exhibition area it was a relief. If your kids are under ten, I'd suggest going on a day when a family program is scheduled or on the weekend to take the pressure off a bit.  The Hyde Collection prides itself on welcoming--and delighting--all members of the community, and they strive to make young people feel welcome with their monthly Discovery Days family tours and their Thursday afternoon Tours for Tots program.
Another wonderful aspect of The Hyde Collection is that it's a completely manageable scale for younger museum visitors. It's easy to navigate and will leave visitors wanting more. In fact, as my husband and older daughter headed out the door, I was waiting for my eight-year-old to finish signing the guest book:
Now that's what I call a ringing endorsement!
---
© 2013, KidsOutAndAbout.com
Katie Beltramo is editor of KidsOutAndAbout.com-Albany and also blogs at CapitalDistrictFun.com.