Review of Mountain Ridge Adventure

 
by Katie Beltramo
Recently, our family visited Mountain Ridge Adventure, a brand-new treetop challenge course and zip line park in Glenville. If you're already a fan of ropes courses or ziplines, you'll be excited to hear that this park is so close to home. If the idea of challenging yourself up in the trees is new to you and your family, Mountain Ridge Adventure provides a perfect first-time outing. 
The Experience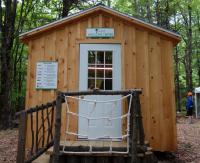 Mountain Ridge Adventure is nestled in the forest along a quiet road, and after parking, visitors follow a short pathway through the trees to a small welcome center to check in. It's best to reserve a time slot ahead of time online. Groups begin the course approximately every half-hour beween 8:30 am and 4:30 pm each day through the summer season (beginning  June 18th through early September), and on weekends in the spring and fall. We'd filled in our waivers online, so after checking in, we were quickly ushered to our next stop to put on our safety equipment.
Our guide, Kasey, had prepared our safety harnesses, gloves, and helmets ahead of time to help us get "suited up" for action quickly (here you can see my teenager saying a fond farewell to her phone. No, I'm not proud).
One unique aspect of Mountain Ridge Adventure is that, when possible, each group has a designated guide to assist them through the challenges and offer up any help needed. The result was that we felt pretty bonded to our guide by the end of our three hours. She shared that she and other staff had completed at least forty hours ("but it ended up being more like 50 hours") of training to get them started.
As for training for regular people, Mountain Ridge Adventure is designed to be accessible to even the novice tree adventurer, but you'll get started at a spot called "Ground School." At Ground School, participants learn how to maneuver around the course, how to use the SmartLock system that keeps each person continuously attached to a safety cable, and how to use their own zip line trolley. Once all participants are comfortable, they move on to their first challenge course. Right now, Mountain Ridge Adventure includes four challenge courses, but plans are in the works to add two additional, more challenging courses.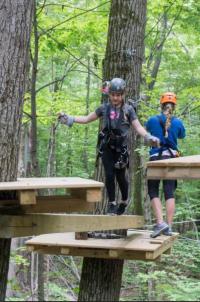 My kids were particularly charmed by the table and chairs obstacle, and we all really liked that ziplines were integrated into the challenge courses. We progressed from the easiest to the most challenging course available, with our guide, Kasey, never too far away (you can see her on the right, with the blonde braid, acting as back-up for my younger daughter). After the four challenge courses, we all did the zip line course, which is literally a series of several zip lines in a row traversing back and forth over a ravine. Afterwards, we had just enough time to squeeze in a repeat of the easiest course again before our time was up. We definitely left wanting more. As I mentioned, the park is brand-new, so the plan is to have an additional two challenge courses installed that will be more challenging than the ones we completed. Our family loves outdoor adventures like these, so we found the courses relatively easy. The exception would be when I managed to tangle myself in the ropes pretty well on the Level 4 "Inspire" course. I presume that it is much easier to disentangle yourself when your entire family isn't mocking you and making you laugh, but sadly, I wouldn't know.
Is it Safe?
The folks at Mountain Ridge Adventure were very attentive during our visit. In addition to our guide, Kasey, we saw staff members checking equipment, monitoring wind levels, and lowering a nervous guest down from a platform efficiently.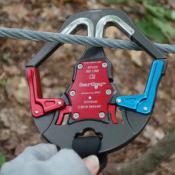 Each participant wears a safety harness, a helmet, and fingerless gloves for protection, and our guide helped us ensure that we'd tightened our straps and helmet for a great fit. As part of the "Ground School" orientation, we learned how to use the SmartSnap system, a belay system that keeps visitors continuously attached to a safety cable at all times. Basically, there are two sides to the SmartSnap, and one is always locked. In the photo to the left, the blue side is locked onto a safety cable, and in order to unlock that side, I'll have to lock the red side onto the next cable using a simple "key" system that's set up along the safety cables.  Occasionally we found using this key locking system a little clunky, with the SmartSnap a bit difficult to maneuver over the keys set along the safety cables. But SmartSnap offers a very secure system that's a comfort to parents, especially those with risk-taking kids who would exploit vulnerabilities in a less-secure set-up.
Who'll Love Mountain Ridge Adventure?
We all loved Mountain Ridge Adventure, but it's not for everyone. Kids must be at least 7 years old for the challenge courses (12 and up for the zipline pass) and 48 inches tall, and all participants must be between 66 and 265 pounds. That's because kids must be tall enough to reach all of the challenges and heavy enough for gravity to pull them along all of the zip lines.
I think that the convenient location, the options for both challenge courses and ziplines, and the attentive and excellent guides make this a terrific choice for a tween or teen birthday party. Mountain Ridge Adventure offers birthday packages, and they even have arrangements with a local caterer if you'd like to have food delivered to eat at picnic tables right at the park.
Supporting a Local Business
We've been hearing about Mountain Ridge Adventure in the news for months because the park has faced significant opposition from a small-but-vocal group of neighbors who are opposed to the idea of a park. Having visited the park, the notion of excessive noise and traffic seems baffling. We honestly almost missed the unassuming entrance to the parking lot, and we literally could not hear the guests exploring other courses while we were there. The owner, Michael Cellini, and his wife Olivia began this business in part to help people connect with nature in a new and challenging way, but also to create sustainable development that's compatible with the natural environment. An added bonus is that their 8- and 10-year-old kids have pretty much the best yard ever. Knowing a bit about the background, visiting the park myself, and meeting the local family who owns it makes me particularly excited to spread the word to an audience who'll appreciate what they've created.
Tips to Make the Most of Your Visit
Reserve a spot and fill out your waivers online so that you can get straight to the fun when you arrive.
The park is open rain or shine unless there's an electrical storm or high winds. Keep in mind that even if there's light rain, the tree canopy offers more shelter than you'd expect.
Sneakers or flexible hiking shoes are recommended, and you can't wear open-toed shoes or any loose, flowing clothing or hairstyles that could become tangled with equipment.
Mountain Ridge Adventure's only restrooms are Port-a-Potties, so if you find this option unappealing, you might choose to make a pit stop at the Stewart's on Route 5 that most visitors are likely to pass just a few minutes before arriving at the park.
You'll want to leave valuables and cameras in your car, but when we visited, staff offered to store things for us, too.
There are light snacks available, but keep in mind that you'll want to make the most of your time, so I'd arrive fed and spend your time up on the courses.
If you're not sure how to approach a specific element, ask for suggestions.
We liked our guide so much that we tipped her, and since I was chatting with the owner, anyway, I asked if there was a tipping policy. Tipping your guide is permitted but certainly not required.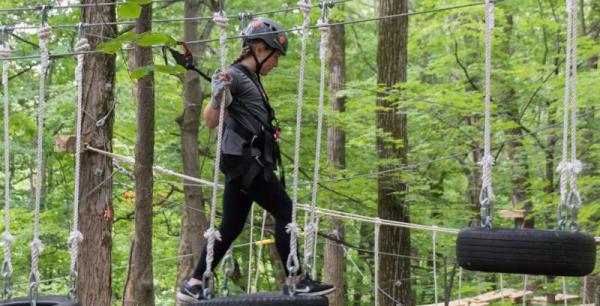 ---

Mountain Ridge Adventure is approximately 35 minutes from Albany. More location information is available here.
The passes available include the Treetop Challenge Course Pass for $49 and the Zip Line Park Pass for $29. The Treetop Challenge Course Pass lasts for 3 hours and includes access to all of the challenge courses as well as the zip line course. The Zip Line Park Pass lasts for 2 hours and allows visitors to complete the zip lines multiple times. For the most up-to-date information on ticket prices, visit Mountain Ridge Adventure's website directly here.

---
© 2016, KidsOutAndAbout.com.
Katie Beltramo, a mother of two, is an editor at Kids Out and About. She also blogs at Capital District Fun.
---