Review of Ramblewild

 
by Katie Beltramo
Recently, our family visited Ramblewild, a terrific new tree-to-tree adventure park that's a challenging and fun way to get back to nature. Set in beautiful forest land in the Berkshires, Ramblewild is just one facet of what Feronia Forests calls Sustainable Full Forestry™, a mission to find alternatives to cutting down trees for timber, such as the adventure park, Mission: Maple products, and some super-fancy water called Vertical Water. Along with these for-profit efforts, Feronia seeks to combat nature deficit disorder and educate children about renewable energy, sustainability, and the environment through their non-profit Feronia Forward. A visit to Ramblewild offers plenty of opportunities for learning more about the forests and sustainable practices in between climbing, balancing, and occasionally shrieking your way through their courses.
The Experience
We arrived at Ramblewild's big, lovely new lodge, where we checked in, perused the merchandise, and scoped out the cozy atmosphere There's a fireplace for the wintertime (yes, it's open year-round!) and a big deck and picnic tables as well. Once it was time to head to the course, a guide will brought us on a short hike through the forest to the park area.
The site was chosen specifically because it allows visitors to feel like they're transitioning away from civilization and deep into nature, and informative guides turn the walk into a forestry and botany lesson as they go, also pointing out how Ramblewild protects its home environment by making choices like using pressure to support the courses instead of putting nails and screws directly into the trees, and building boardwalks in high-traffic areas to combat soil compaction, which can damage the root systems.
At the park, our first stop was the harness hut, where a friendly staff member will greeted us and helped us get suited up with a harness, a helmet, and a pair of gloves. After a brief tutorial to get ready, we headed to T
he Hub. This large platform is where all 8 different courses begin.
There are two courses labeled very easy, two that are easy, two that are moderate, an advanced course, and a course labeled double black diamond, or most difficult.
Even the easiest courses contain some challenges, while, according to the staff, the majority of folks who attempt the toughest course need help from staff, even bailing out from exhaustion. We loved how flexible the park is: You can choose your difficulty level, and if someone catches up to you from behind, it's easy to let them pass on a platform between the elements on each course. During our visit, everyone spread out enough that this never happened (except within the family), but it's great to have the option, because we've had different experiences at other parks, where we're either required to stay with a group or we've been stymied by bottlenecks or traffic jams.
Your ticket is good for three hours, and you won't have time to do everything. Our family got through the four easiest courses together before the girls decided to repeat their favorite with Dad while I ran for the camera.
We tightrope-walked, stepped between swinging perches, climbed nets and rock walls, and zipped over standard zip lines and goofy alternatives like a trapeze or a tobaggon. Ramblewild staff or "Ramblehands" were always nearby, monitoring our progress from the ground. They did a great job of remaining casually unobtrusive when all was going well, then stepping in to offer coaching before a particularly daunting element or cheering on my 10-year-old when she showed signs of frustration.
One of my favorite moments was when I arrived at a platform via a saddle zipline to greet my 13-year-old daughter who had swung into take-charge mode, grabbing the saddle's pommel to steady it and barking instructions on how best to dismount before urging me to go ahead and follow her little sister with a, "Mom, I've got this. I'll take care of Dad." We all loved the "leap of faith" end to one of the courses, where you clip into a line and step off a high platform with nothing but the assurance of a coaxing staff member that you'll be let down gently.

Is it Safe?
My family was impressed with how Ramblewild keeps participants safe with well-trained Ramblehands and, most important, an auto-locking smart Belay system. Once you've put on your harness and adjusted the straps to fit well, the Ramblehands teach you about the two electronic belays that are firmly attached to the torso of your harness, with a holster on each side to hold them when you're not climbing. You cannot open both belays at the same time. The brief introduction is offered at one of several little training spots where you can learn how to use the smart belay system while you're still close to the ground and under close supervision. A staff member explains how to unlatch and relatch belays as you move from, say, ladder to platform to element to platform again. This quick hands-on course helps everyone feel competent, and it's reassuring for parents, too.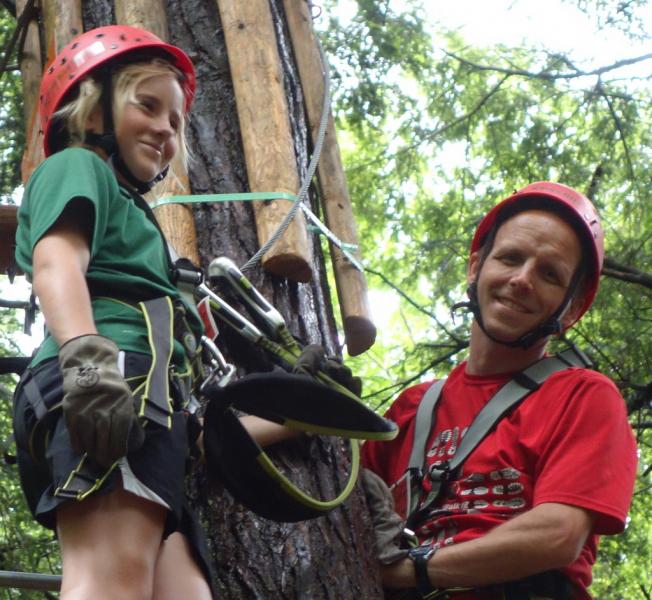 On the course, you can see how this works in the picture to your right. My daughter is on the platform, and you can see that both smart belays are attached to the cord wrapped around the tree. Next she'll open one and switch it to the safety cord on the next element. If she somehow forgot to close it properly, she would be unable to open the second one, and she'd be stuck to that tree until she figured it out. Each single belay is strong enough to support a participant. (Incidentally, my daughter was not interested in getting her picture taken and tried to look sullen, but she was having so much fun that she could not stop smiling.)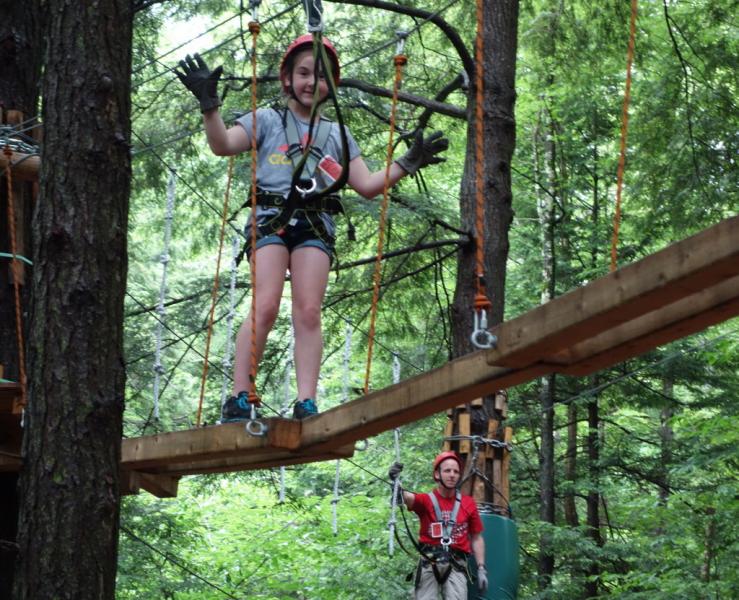 With this fool-proof system keeping your kids secure, they're able to take risks and occasionally go "No hands!" All that said, this is challenging physical activity, so you can expect some minor falls, knocked shins, or unsteady landings. It's also an excellent workout, so you might discover muscles you didn't know you had when they're sore a day or two later. In fact, Ramblewild offers memberships for folks who are bored with going to the gym.
Who'll Love Ramblewild?
Well, we did, of course, but Ramblewild isn't for everyone. Kids must be at least 7 years old and 55 inches tall. My younger daughter just barely made the cut-off, and it was noticeable that a few of the elements were more challenging because of her--ahem!--stature. Visitors may not complete the course if they are pregnant, have heart disease, or weigh more than 265 pounds. Extra guests are welcome to come and watch from below and take photographs, though, and that's free. There are also nature trails to explore.
Tips to Make the Most of Your Visit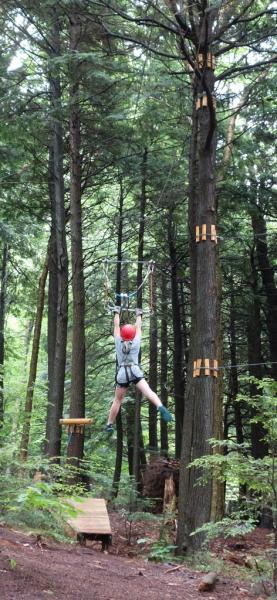 Close-toed shoes like sneakers or hiking boots are required, and you can't wear any loose, flowing clothing or hairstyles that could become tangled with equipment. Ramblewild will provide you with leather gloves, but you are welcome to bring your own gloves if it is more comfortable for you.
You're not permitted to bring cameras or phones with you up onto the courses for safety reasons. The staff recommend leaving valuables like wallets and phones in your car, then locking your car and leaving car keys at the lodge's front desk. If you think that you'd like to take pictures or have a sweatshirt handy, I'd suggest bringing them up to the harness hut for storage closer to the course (as I said, it's a bit of a hike to the car). 
There's no food for sale at the lodge, but you can pack a lunch or snacks and plan to picnic. I'd suggest leaving these in your car. You won't want to waste any of your time eating when you could be playing in the park.
If you're not sure how to approach a specific element, ask for suggestions. I found that, when I was the last of the four of us, I would occasionally miss instructions that a Ramblehand offered when the first of us approached something we hadn't seen before.
Speaking of instructions we missed, when you're using zip lines, you'll want to grab hold low rather than high to make it easier, and bicycle-pedal your feet the whole time to keep yourself facing forward.
Ramblewild is open rain or shine unless there's an electrical storm. When we visited, it was a rainy day, but the forest canopy kept us relatively dry. If you're trying to avoid crowds, a lightly rainy day is a good bet.
We had so much fun at Ramblewild that our visit flew by. We'd absolutely love to go back and try some new courses. The mission of getting people to engage with and appreciate nature is apparent in all aspects of the park, from how it's been constructed, the staff's insights, and signs along the way that offer insight into the hemlock forest setting.
When to go to Ramblewild
One aspect that I found most exciting is that Ramblewild is open year round, with snowshoe hikes and s'mores around the fire to augment the adventure park fun in the winter. It's located right next to Jiminy Peak, so if that's already a winter destination for you, you should think about adding something new to your wintry mix.
One of the pieces of advice you'll hear from Ramblewild staff is that you should always hit the ground running, and they mean it quite literally. But if you'd like to metaphorically "hit the ground running" this summer by plunging into some family bonding time and embracing nature in a whole new way, Ramblewild's a great place to do just that.

---

Ramblewild is approximately 45 minutes from Albany, 1.5 hours from Poughkeepsie, and 1 hour, 45 minutes from Hartford. More location information is available here.
Ticket prices for Ramblewild vary by season, and group discounts are available. On the day of our visit in June, tickets cost $69/adult and $57/youth.  For the most up-to-date information on ticket prices, visit Ramblewild's website directly here.

---
© 2015, KidsOutAndAbout.com.
Katie Beltramo, a mother of two, is an editor at Kids Out and About. She also blogs at Capital District Fun.
---