Review of Six Flags Great Escape Lodge & Indoor Water Park
by Katie Beltramo
The Six Flags Great Escape Lodge & Indoor Water Park is situated perfectly for a mini getaway for families from New York City, Boston, Montreal, Buffalo, and the Capital District of New York.  Located in Queensbury, NY, it's just across the street from Great Escape, a few minutes away from West Mountain, and centrally located between other family attractions in Lake George and Glens Falls.
Lodge Amenities
Beyond its location, the lodge is just a pleasant place to gather with your friends and family. The woodsy Adirondack theme is carried throughout the lobby, rooms, and the water park itself, giving you the feel of a full-fledged resort vacation--even if you're only staying a night or two--that you can't get from an overnight at your local hotel with a pool.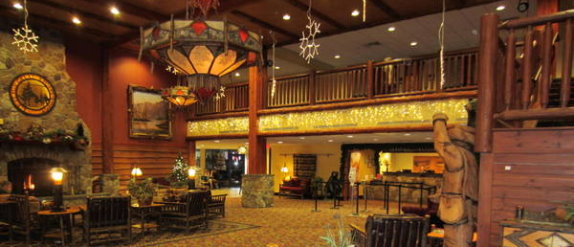 The lobby is beautiful, with plenty of clusters of comfy sofas, and even the most basic rooms (called Traditional Suites) offer a generous amount of room, a divider between sitting and sleeping areas, and a small microwave along with the mini-fridge. Although you can visit the water park for the day (check online, but when I looked, these passes ran $30-$45), it's absolutely a better deal to do an overnight, which will include passes for all guests for the length of your stay.
If you want a special treat, there are great new Klub Moose "Adirondack Cabin" rooms, which have a built-in cabin area for kids within the room. The adults get a double bed, and the kids sleep in bunk beds enclosed in a fort-like cabin area. These rooms book early and they're $20 to $50 more per night than the Traditional Suites, but they are super-cool and include a gaming station, like a 9-year-old's fantasy room.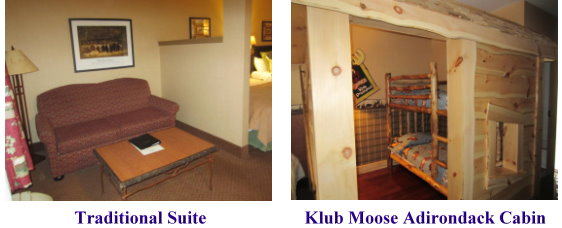 The Water Park

The water park features a variety of attractions including two big tall-and-twisty tube slides that were my daughters' favorites. The Avalanche uses family-sized rafts, which is great way for  the younger or more timid members of your party, and the Glacier Run and Snow Shoe Falls are for solo tubers who are at least 42" tall. My kids loved the whole idea of the tubes jutting outside of the building, but for both of these, you're falling through the dark, so you don't actually see outside.
Tall Timbers Treehouse is a splashy playground with smaller slides, Tak-It-Eesi Creek is a lazy river that includes plenty of opportunities for children to maneuver their mothers under spraying water. . . why, oh why, do they love to do that so much?
With Boogie Bear Surf, folks can belly-board for a timed turn; stand-up surfing lessons are also available for older kids. Not surprisingly, my personal favorite attraction was the grown-ups-only hot tub which was so cleverly concealed behind fake boulders that you could almost forget that you were at a water park.
Attractions Beyond The Water Park

Around the lodge, there's much more for kids to see and do, including the Star Light Arcade and the Kids Klub, which offers free activities, daily crafts, and specialty activities with various characters. There's also a stand inside the water park with airbrush tattoos, hair wrapping, and feather extensions.
Almost all of these activities have costs associated with them. In fact, it presents you with a terrific opportunity to provide your kids with an economics lesson. Set an "extras" budget for each child before the trip and then stick to it. Arcade tokens, for example, cost $1 for 4 or $20 for 100, crafts at the Kids Klub range from $3 to $10, while specialty activities with the characters are $12/child. Have kids weigh their options, consider what they'd like to experience versus acquire souvenirs, and negotiate with each other. They'll feel grown-up making the decisions, and you may be able to avoid fielding constant requests.
Nearby, our family has also loved visiting The World Awareness Children's Museum and The Hyde Collection, both in Glens Falls. And everyone loves Lake George.
What Age is Best for a Visit?
The Lodge & Water Park are most ideal for ages 3 to 8. Kids this age are likely to love everything: splashing around the water park, seeing the characters, and participating in Kids Klub activities. That said, any age guest will find plenty to please them.
I was particularly impressed by the consideration for families with very young children. There was ample space for diaper changing and changing clothes within the water park itself, as well as free life jackets and towels available for guests.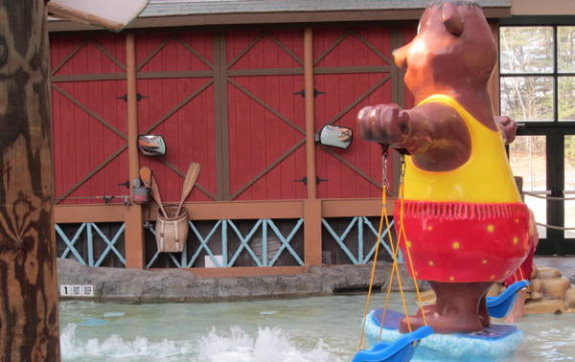 My favorite part for the little ones was the Tip-A-Kanu Beach area, which had small slides, wee spurts of water, and two baby swings (and we all know, if your kid loves a baby swing, you love a baby swing). Best of all, a couple of mirrors are installed strategically so that you can sit down and still see your child at all times, even if they wander behind a slide.
For the older elementary-school set and tweens, what the lodge offers is independence. While you're in the water park area, your older kids will delight in making trips back to the room, into the arcade, or over to the Birch Bark Grill for a snack. Popular music is playing, and one look at the gift shops tells you that they've got their fingers on the pulse of the current tweens' heart desires, which, as of this moment, include Vera Bradley merchandise and mustache accessories (I am not even kidding), along with beach favorites like bathing suits and shell jewelry. They're likely to have the most fun if you coordinate with friends or family so that your older kids have companions on their small-scale excursions.
As for grown-ups, you can get a frozen margarita or other drink right in the water park, there's an ample supply of light magazines in the gift shop, and you can even escape from your escape with an appointment at the Tranquility Spa.
What About the Food?
There are plenty of options for you while staying at the lodge. Within the water park, the Birch Bark Grill provides park foods like pizza, burgers, and chicken and plenty of snacks. Most combos are $10, nachos with cheese are $5. In the lobby, you can pick up a la carte breakfast basics like coffee, bagels, yogurt, and pastries, or you can do a more traditional hotel restaurant experience at the Tall Tales Tavern, which offers a buffet breakfast and pub-style fare.
Of course, your most fun dining option is Johnny Rockets, a 50s-style burger and malt shop. This chain is popular with good reason. The food is tasty, the service is friendly and fun, and the retro decor and tabletop jukeboxes held my 8-year-old, in particular, spellbound.
We closed our eyes to nutritional concerns and embraced the spirit of the place by starting with their new Bacon Cheese Fries (yum), I went with a classic Route 66 Burger (Swiss cheese and grilled mushrooms and onions) while my husband tried the new Chicken Philly Steak, which he pronounced surprisingly good. For me, the very best part were the onion rings with a side of ranch dressing-crisped to perfections an delicious. The girls liked their burger and chicken but declared the best part the shakes afterwards to be the very best part--no big surprise there.
As we finished our meal, the waitresses jumped up to perform to Aretha Franklin's "Respect" and my daughter was thrilled. Later, she said that the meal at Johnny Rockets was her favorite part of the whole trip, a pretty profound statement when you consider all the other fun to be had at the lodge. A Johnny Rockets menu is available online.
Tips to Get Ready for Your Stay
Especially if it's cold outside, don't forget to pack the incidental warm-weather gear you'll need between your room and the water park: a cover up and flip-flops or water shoes are essential.
Bring sunscreen if the forecast is sunny, because the roof is specially designed to allow those warm sun rays.
If your child is in diapers, bring swim diapers and a plastic diaper cover.
Bring water bottles with you or consider purchasing a giant cup ($8.99) upon your arrival to refill during your stay.
Talk to the kids about their budget for extras.
Scope out other area attractions that your family might enjoy, and double check hours for tubing and other activities, especially if you're visiting mid-week.
---
© 2013, KidsOutAndAbout.com
Katie Beltramo is editor of KidsOutAndAbout.com-Albany and also blogs at CapitalDistrictFun.com.