The Thanksgiving Day Parade in Person: A How-To Guide
by Katie Beltramo
When you see Macy's annual Thanksgiving Day parade, do you wish that you and your kids could see it in person? Depending on where and when you'll be feasting later in the day, it's quite possible to fit in this memorable experience and still make it in time to load your plates with relatives later. Here's an action plan.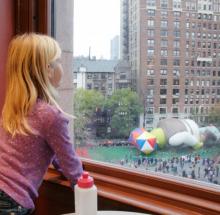 The parade begins at 9 am on Thanksgiving, and you'll need to arrive early in order to get a spot along the route, so drive to the New York City area the day before and plan to spend Wednesday doing something kid-friendly. If you're on a budget, book a hotel just outside of the city. One year we used the online site Priceline to book a hotel in Fort Lee, NJ, then drove just across the George Washington Bridge to the Upper West Side of Manhattan and used the subway from there. Arriving a day early will also give you a chance to orient yourself to the subway system if it is new to you.
One great destination for Wednesday is the American Museum of Natural History. The museum is always a hit with kids, and we have found that it is less crowded than usual on "Thanksgiving Eve." Best of all, you can eat at the upstairs cafe where you'll have an excellent view of the parade floats as they are blown up for the next day's festivities.
Plan for an early bedtime, because you'll need to stake your claim to parade route territory hours before the parade begins. Check out the parade route online ahead of time and travel by subway instead of car. Closer to the parade's finish, which is where you see the televised acts, space will be tight, and many of the best space is reserved for VIPs. Farther north, you are likely to have a bit more space and the parade moves at a slightly brisker pace, which works better for most young kids. If you're along the Upper West Side, you're likely to be done by 10:30 am, freeing you to enjoy the rest of Thanksgiving. Even in the less congested northern portion of the route, though, you should plan to arrive by 6 am at the latest to secure a spot.
You'll essentially be camped out for hours before the parade even begins. Here are some suggestions for the camp-out-and-parade-viewing process:
Limit the kids' fluid intake.
Bring a blanket, camp chair, or something that will mark your territory and allow you to avoid sitting on cold pavement.
Bring books and a card game to pass the time.
Wear clothing layers. You could get cold, but you also don't want to be bogged down holding too much.
Bring snacks, but not snacks that will make the kids too thirsty (see the first bullet point).
Identify a store or restaurant that has a bathroom before you find your spot, and then walk over to the parade route while staying close to the cross street with a bathroom.
Don't forget your camera, perhaps binoculars if you'd like to recognize specific celebrities.
In fact, check the parade's website for a last-minute list of celebrities so that you can appreciate them and share the information with your "parade neighbors."
Bring at least two adults. Try to have more adults than children present. Because they will be spending time on your shoulders. Which can be exhausting.
Make sure that the grown-ups have charged cell phones in case you get separated.
If someone in your family has physical, intellectual, or developmental disabilities, it's possible to get special accommodations. Click here for more information.
As you may have guessed based on the list, the bathroom issue can be a challenge. If a child needs a bathroom break, one adult should take all the (non-diapered) children while another adult maintains your territory. The first time we did this, I feared grumbling and hostility, but it was absolutely fine. It's a family event, you know. Some people muttered that we were crazy to leave, but I just kept smiling and saying "Excuse me" nicely. When we actually worked our way back to our place, we followed our original path as much as possible, so folks knew that we had a spot further in; Some even congratulated us on our successful return.
Is a trip into New York City for the Thanksgiving Day Parade ambitious? Sure. But your kids will remember the trip and talk about it for years to come.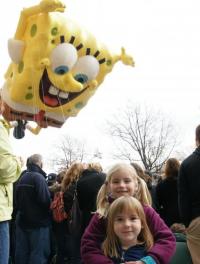 Helpful Websites:
Suggested Supplies:
Sleeping Queens or or another fun card game
Lightweight camp chair
Apples, yogurt, or other healthful, non-thirst-inducing snacks
Binoculars
Thanksgiving picture books or other books
Your most compact child carrier